Complete and Reliable Solutions for Digital Transmission and Distribution Substations
Modular, Flexible & Cybersecure Protection IEDs designed to meet the most demanding requirements in each Application Field
HV Lines / Transformers / Busbars and Breakers / Feeders / Motors / Bay Control Applications / Grid Automation
General characteristics of the Flex Family
Powerful programable logic. 9 2000 event log. Up to 100 oscillography seconds.
Alphanumeric or graphic display.
160 DI, 80 DO, and 22 LEDs.
Bonding, RSTP, PRP and HSR Redundancy.
IEC 61850 Ed.2, DNP3.0, Modbus RTU and PROCOME Protocols.
Native process bus. Analog input cards operate as Merging Units for the CPU.
Synchronized samples at 4800 Hz (as per IEC 61869-9).
Cybersecurity in accordance with IEC 62351, IEC 62443 and IEEE 1686-2013 standards. RBAC, secure keys, physical and logical port disabling, cybersecurity event log, securing of management protocols (PROCOME, HTTPS, SFTP, SSH), remote authentication (LDAP, RADIUS) and digital firmware securitization.
Time synchronization by IRIG-B, SNTP and PTP (Ordinary Clock / Transparent Clock).
Download now the Flex Family Protection Relays leaflet PDF
All about the Cybersecurity functionality on the Flex Family Protection Relays 
ZIV Protection relays by application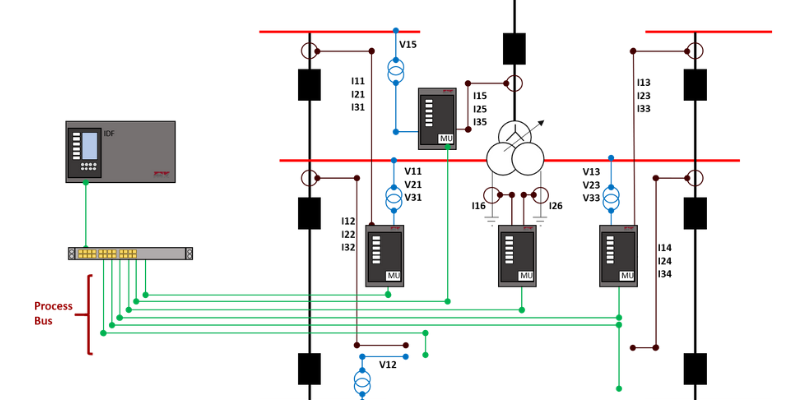 IDF – Transformer Protection Relay IEC 61850 2
Protection relay for two or three winding transformer or autotransformer, of any voltage level, with single or double circuit breaker. IEC 61850 Certificate ed 2 Suitable for phase-shifting transformers, Scott or Leblanc transformers. The IDF is applicable as a differential protection for reactances, SVCs, generators and motors. A fast differential unit, complemented by advanced blocking and harmonic restraint logics and an external [...]
IDV – Transformer Differential Protection
A Complete solution for Transformer Bays and other Machines IDV Relays include all Protection, Control and Measurement functions for Two or Three Winding transformers or autotransformers at any voltage level, with Single or Double Breaker. It may also be applied as differential protection in Reactances, Generators or Motors. Key Features Solid State Trip Outputs. Differential Unit with Percentage and Harmonic [...]
6MCV – Bay Control Unit
The ideal Complement to Protective Relays for Intelligent Management of Analog and Digital Signals 6MCV relays are the ideal support of protection terminals for intelligent management of a great number of analog and digital signals. There are provided both with local and remote control, graphic bay location, logics and communications. Key Features Programmable Logic. Versatility in communications. Supervision of switching [...]
6IRV – Bay Control and Breaker Management Unit
Integrated Solution for Control, Monitoring and Protection for Simple or Double Breaker Bays The IED generically designated as 6IRV combines all the necessary functions required for full control, supervision and protection of a breaker. These IEDs incorporates Breaker Failure protection, Recloser and Synchronism Supervision. Also, 6IRV relays incorporate backup protection units like Overcurrent, Over/Undervoltage, Over/Underfrequency as well as Control and [...]
Capacitor Bank & Reactance Protection
BCV – Capacitor Bank Protection IED
A Complete, Reliable and Economic Solution for most Capacitor Bank Protection and Control Applications BCV relays incorporate protection, control, and metering functions for capacitor bank and reactance applications combining the specific protection functions with complete bay protection in a single IED. Key Features Based on the latest digital technology and designed to provide maximum flexibility and versatility. Voltage unbalance protection [...]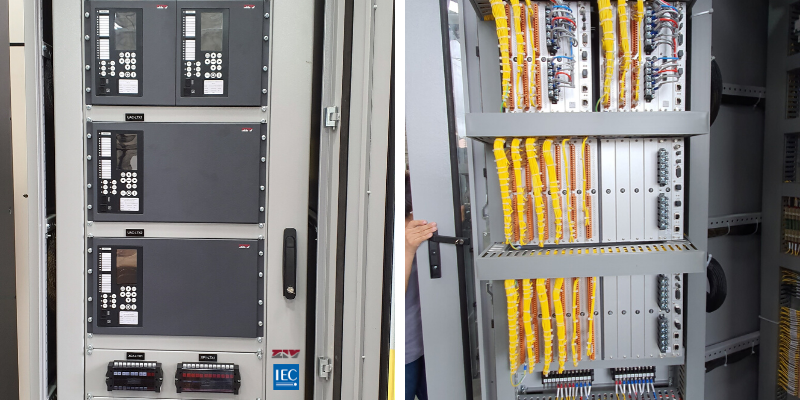 IRF – Modular Feeder Protection Relay IEC 61850 2
Protection relay for distribution feeders, transformers and generators, transmission line backup, and BCU (bay control unit). IEC 61850 Certified ed 2. The IRF is applicable in any substation scheme. The protection functions are suitable for any neutral configuration, solid-grounded, resistor grounded, Petersen coil compensated, and isolated. The powerful programmable logic features selectable execution times according to the required priority (2 [...]
Disturbance Recording.    Automatic Voltage Regulator (AVR)
Trip Coil Supervision Relay.         Machine Protection Relays