ZIV has been awarded a contract for the supply, configuration and commissioning of the Protection, Control and Communications systems of Talasol Solar Plant Substation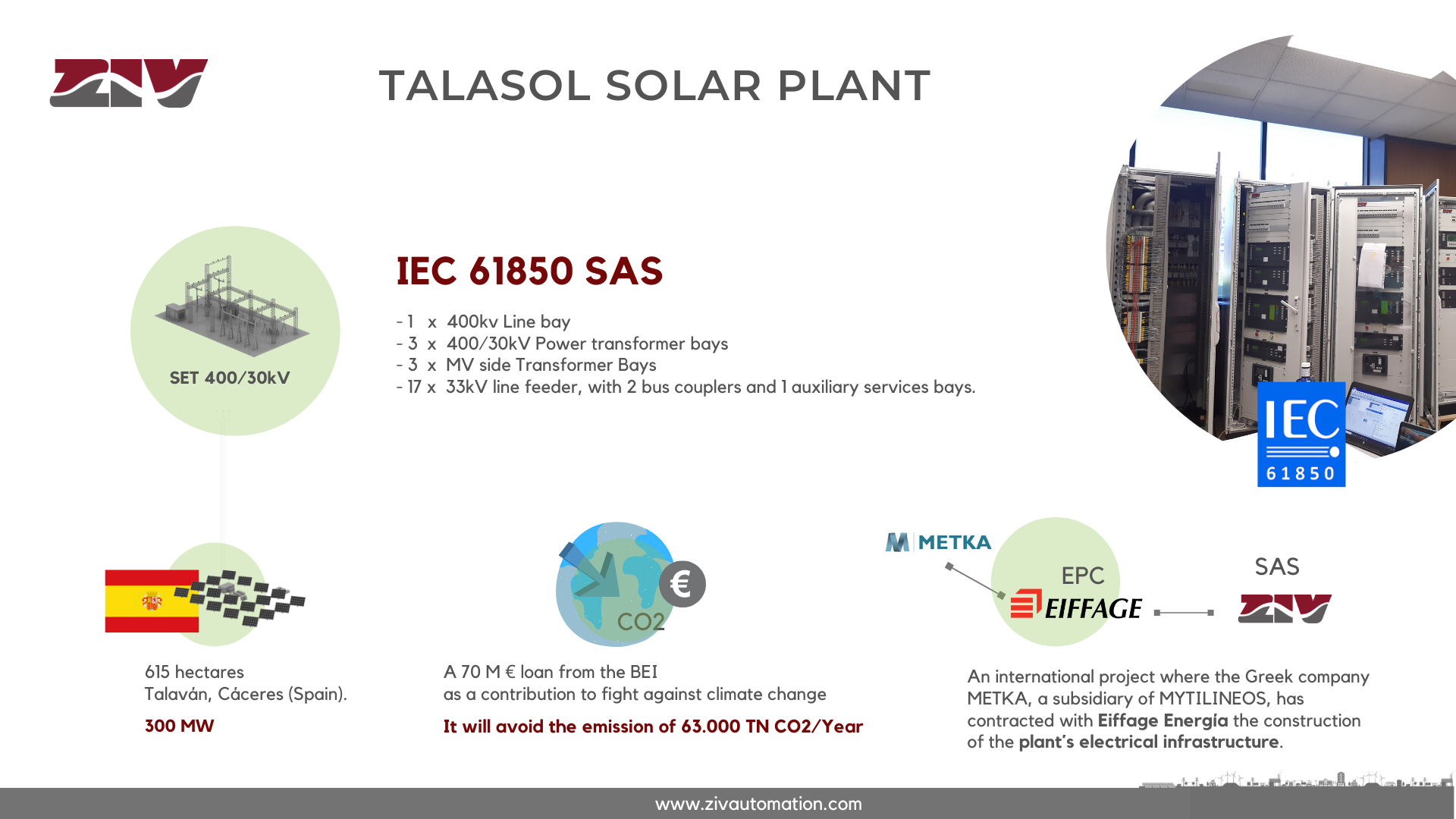 Location: Talaván, Extremadura (Spain)
Substations: Talasol
Promoter: Metka
EPC: Eiffage Energía
Substation Automation System: ZIV IEC 61850 SAS
Greek METKA, a subsidiary of MYTILINEOS, awarded Eiffage Energía the construction of the electric insfrastructure of the solar plant
Scope of the project
The Talasol 300MW PV project in the municipality of Talaván, Cáceres, Spain belongs to Talasol Solar S.L.U., a subsidiary of Ellomay Capital Ltd. The scope includes the engineering, procurement and construction (EPC) of the Talasol project and the ancillary facilities for injecting power into the grid, including a 400 kV step-up substation, a 24km high-voltage interconnection line to the grid, as well as a 2-year contract for operation and maintenance (O&M) services.
ZIV contract includes the commisioning and supply of a complete Substation Automation System, based on ZIV relays, communicated via IEC 61850 with fiber optic with the substation gateway (ZIV CPT model). In addition to all the equipment, ZIV will provide its engineering services for relay settings calculation; settings, control logic, scada, and communications file programming; testing and commissioning.
Cabinets:
– 1 x  400kv Line bay
– 3 x 400/30kV Power transformer bays
– 3 x MV side Transformer Bays
– 17 x 33kV line feeder, with 2 bus couplers and 1 auxiliary services bays
Clean energy
The BEI has provided a 70 M € loan to support the project as a contribution to fight against climate change. Once in ful operation, the plant will will avoid the emission of 63.000 TN CO2/Year
(*) Source: https://www.metka-egn.com/es/portfolio/300-mwp-talasol-espana/
Location
Talaván, province of Cáceres (Extremadura), Spain 39°36'38.7″N 6°18'41.5″W
About Metka & Eiffage
EIFFAGE
Eiffage is a large company specialized in electrical infrastructures, installations, maintenance, renewable energy, civil works and construction, with more than 40 offices and a workforce exceeding 3,500 employees. Eiffage energy has 7 subsidiaries, four of them located in America: Eiffage Energía Chile, Eiffage Energía Peru, Eiffage Energía México and Eiffage Energía Jamaica and the other four, Ambitec, Conscytec Inelbo and EDS, with headquarters in Spain

https://www.energia.eiffage.es/lineas-actividad/energias-renovables/
METKA
METKA EGN is expert across the full range of solar power applications, ranging from stand-alone solar parks and storage applications to complex hybrid projects. The decades of experience of the MYTILINEOS group in the thermal power sector, also makes us an ideal partner for hybrid applications, which combine the advantages of renewable energy sources with conventional power generation. Within the domain of electrical infrastructure, we have significant experience and engineering capability essential for the successful integration of solar power to the grid. Further to the EPC activity, we are also experienced project developers. We have the experience and capacity to support solar PV and energy storage projects from inception, through the development and construction stages and for the complete lifetime of the project.
https://www.metka-egn.com/es/portfolio/300-mwp-talasol-espana/