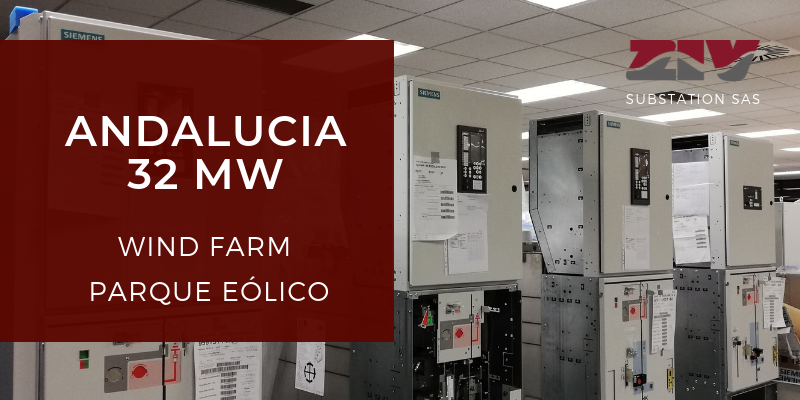 Two new wind farms in Andalusia will have ZIV protection, control and communication systems
Location: Málaga & Cádiz, Andalucia, Spain
Substations: S/E La Escalareta II y S/E La Estancia
Promoter: Gamesa Energy
EPC: Isastur
Substation Automation System: ZIV
The wind farms will have twelve wind turbines, with a capacity of 32 megawatts (MW): nine turbines in La Escalereta II project in Malaga, and three turbines in La Estancia wind farm, located in Cádiz
Multifunction Protection in Medium Voltage Switchgear
Both wind farms will be maintained and operated by Siemens Gamesa for 20 years. They will have an ZIV integrated protection and control system, including multi-function protective relays installed in the medium voltage switchgear. In addition to all the equipment, ZIV will provide its engineering services for the development of electrical engineering, logic engineering, coordination studies and associated commissioning services, including a remote control desk and communications with different SCADAS.
* image: IRF Relays in the switchgear and the self-powered relay for the auxiliary services of La Escalareta II.
About ZIV protection relays
Location
The wind farms are located in Malaga and Cádiz. This is the last addition to the Andalusia fleet of 147 wind farms, which operating at full capacity would generate electricity to power 1,590,000 homes (3,324.34 MW installed).

Andalusia Wind Power
https://www.aeeolica.org/sobre-la-eolica/la-eolica-espana/mapa-eolico/andalucia
About Siemens Gamesa
Siemens Gamesa stands as the first manufacturer in Spain with about 55% of the total installed fleet (more than 12,500 turbines). In addition, the company is responsible for the maintenance of more than 7,500 MW, about a third of the total installed power in the country.
One of Siemens Gamesa main R & D centers is in Spain, where they design some of their latest wind turbine models. Each year, the company allocates about 400 million for R & D investments worldwide. One of the main production and supply centers of the company is also in Spain.
---
Are you working in a project? Let our sales and application team support you
>> Substation automation systmes: wind farms, solar plants, T&D substaions: SAS REFERENCES