The Portuguese EPC, "CJR renewables" which was awarded the Project by Spanish "Grenergy", relied on ZIV for the supply of a complete SAS at both substations 138/34,5/22,9kV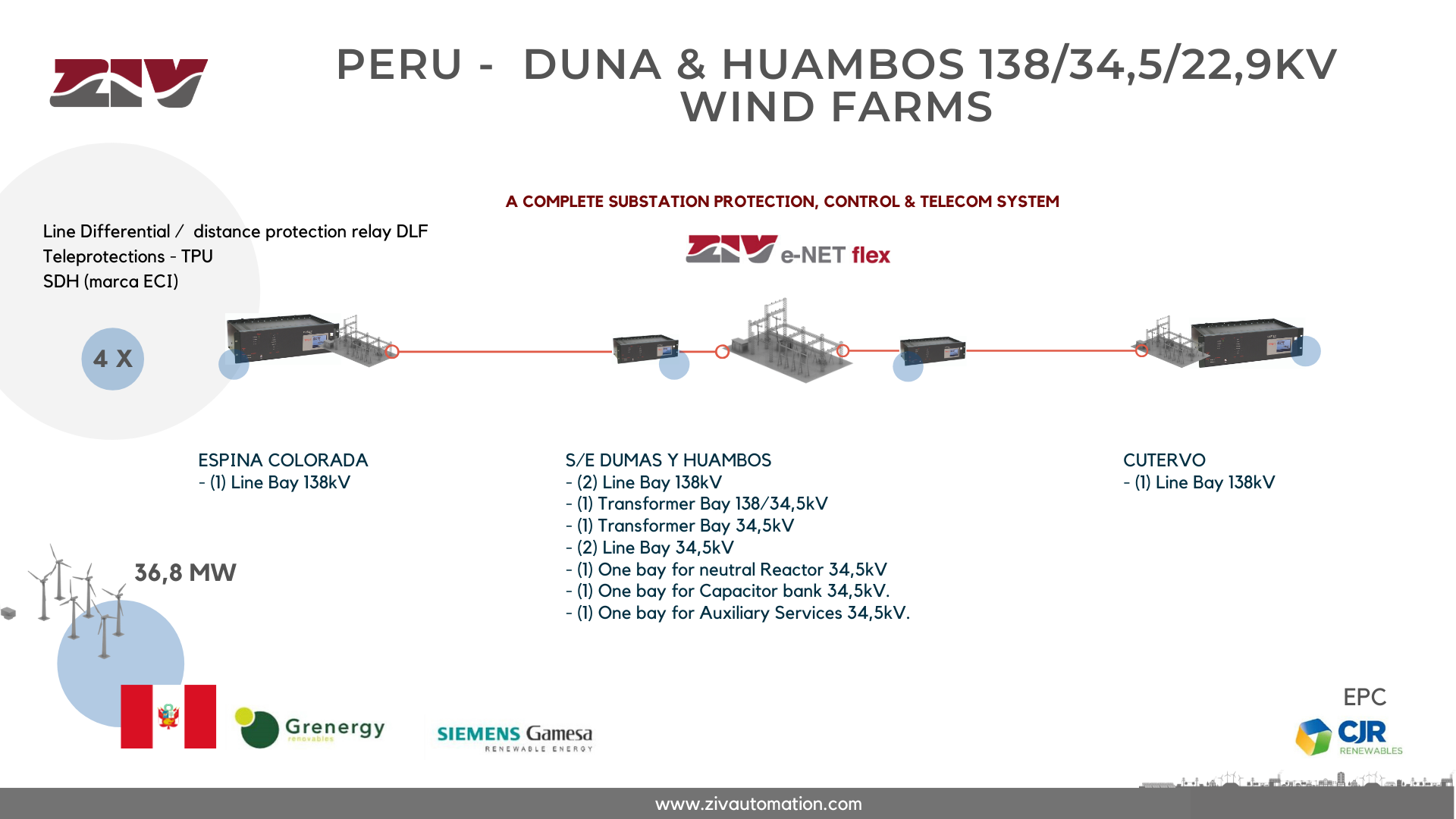 Location: Chota, Perú
Substation: Duna & Huambos 138/34,5/22,9kV
Client: Grenergy
EPC: CJR
Substation Automation System: ZIV relays , Telecomunication cabinets, engineering services
Keywords: ZIV e-net Flex Family, IEC61850, GOOSE, HV Substation KPLC, protection relay, Africa
Duna & Huambos wind parks: 
5,000 net hours of wind a year.
36,8 MW
40 M $
60% clean energy by 2025
Sierra del Perú: 5,000 net hours of wind per year
Duna and Huambos, are located in the Huambos District, in the Chota Province (Cajamarca Department), more than 2,400 meters above sea level.
Both will be built by Siemens Gamesa, being the first parks in the Sierra del Perú, "a geographically strategic place as explained by Grenergy- due to its exceptional weather conditions for the generation of this type of energy, as it enjoys around 5,000 net hours of wind a year. "
The wind farms will have an installed capacity of 36.8 MW. They will sell the energy produced for a period of 20 years to the Ministry of Energy and Mines of Peru, at a price of between $ 37.7 and $ 36.8 per MWh for both parks.
Grenergy foresees its launch at the end of the second quarter of 2020.
Target: 60% Clean Energy by 2025
The Peruvian Administration is aiming to cover 60% of the country's energy demand using clean energy in 2025 and to electrify areas of difficult access. " Grenergy has been present in Peru since 2015 with a local headquarters. The Spanish firm currently has a portfolio of solar and wind projects in Latin America valued at 2,500 MW "in different stages of development".
A project financed by the ICO
Grenergy signed a financing agreement for $ 40 million (about 35.5 million euros) with the Bank of Development of Latin America (CAF) and the Official Credit Institute (ICO) "for the construction and development of two wind farms in Peru".
The company estimates that these facilities will produce more than 165,000 megawatt hours per year. The parks, called Duna and Huambos, are the first in the Peruvian highlands.
It represents the first renewable energy project that the Official Credit Institute (Government of Spain) have financed in Peru, although not the first in the region, where the financing of various renewable projects in Mexico and Chile have been delivered in recent years. Sinia Renovables, a company that specialises in energy projects and whose capital controls 100% of Sabadell bank, has financed a 10% stake in both parks. The Spanish company Grenergy produces energy from renewable sources and specialises in the development, construction, and operation of photovoltaic and wind projects.
The technical solution proposed by ZIV included the supply of a ZIV Integrated Protection & Control System (SIPCO).
A system based on equipment communicated in a simple ring, with bonding redundancy. All the protection equipment (ZIV and Siemens; the latter in cells) are connected using ST glass fiber optics; while the metering equipment (ION 8650 and SEL735) via Cat 5 cable. All of them communicate under IEC 61850 protocol.
DUNA & HUAMBOS substation
– (2) Line Bay 138kV
– (1) Transformer Bay 138/34,5kV
– (1) Transformer Bay 34,5kV
– (2) Line Bay 34,5kV
– (1) One bay for neutral Reactor 34,5kV
– (1) One bay for Capacitor bank 34,5kV.
– (1) One bay for Auxiliary Services 34,5kV.
ESPINA COLORADA
– (1) Line Bay 138kV
CUTERVO
– (1) Line Bay 138kV
Plus Telecommunication cabinets 
Likewise, at the collateral substations protection and control relays will be mounted in a communications cabinet equipped with the following devices:
– 1/2 rack line differential and distance protection, mod. ZIV DLF, with IEC61850 protocol, 90 – 250 Vdc / Vac (+ -20%) power supply, with 38ED + 20SD
– Control unit with 1/2 rack graphic display, mod. ZIV IRF, with IEC61850 protocol, power supply 90 – 250 Vdc / Vac (+ -20%), with 64ED + 28SD
– Ethernet switch L3 rack 19 '*', mod. ZIV SWT, with 8 RJ45 ports, 12 FO ST ports and 4 FO LC ports (* SET Duna and Huambos).
– ZIV model TPU-1 stand-alone digital teleprotection equipment for the transmission of 4 (**) independent orders. Each command is independently configurable as remote lock, permissive remote trigger, or direct remote trigger. The communication interface is of the E1 type at 2 Mbs for interconnection with the SDH system.
(**) 4 orders In Cutervo / 6 orders in Espina Colorada,
– SDH equipment brand ECI telecom model NPT-1030, equipped with two communication interfaces at STM-1 speed (SFP included for the distances considered), and access interfaces E1, Ethernet, voice FXS and C37.94
– 24 fiber optical distributor
CJR, Siemens-Gamesa & Greenergy
Grenergy Renovables
Grenergy Renovables is a project developer and an Independent Power Producer ("IPP") that generates energy through renewable sources. Their core business is the development, construction, operation, maintenance, and sale of power generating solar photovoltaic and wind energy plants..
CJR Renewables
CJR Renewables is a global service provider, offering full EPC/BoP/BoS solutions in the renewable energy sector, operating implementation processes across all projects.
CJR started activities in the early 70's, having as its core activity the rental of construction heavy machinery.
In 1993 they became active on the civil construction business, focusing on road, water, environmental and sports infrastructures, urban rehabilitation, among others.
To date, the Group has experienced a period of sustainable growth and international expansion.
Siemens – Gamesa
Siemens Gamesa is a leading supplier of wind power solutions to customers all over the globe. A key player and innovative pioneer in the renewable energy sector, they have installed products and technology in more than 90 countries, with a total capacity base of over 99 GW.