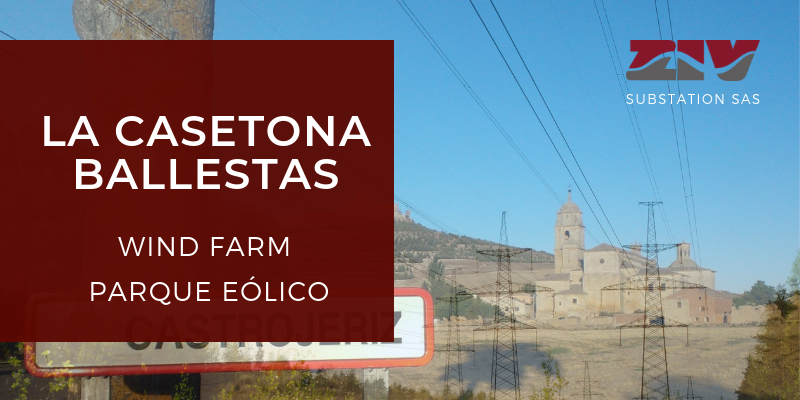 ZIV will implement the protection and control systems (IEC 61850 cybersecure Substation SAS) in the substations of two new wind farms in Burgos.
Location: Castrojeriz & Vallejera, Burgos, Spain
Substations: S/E RAYA 220kV y S/E BACA 220/30kV
Promoter: Gamesa Energy
EPC: Isastur
Substation Automation System: ZIV
31.18 MW of power, with a 30kV underground energy collector grid arriving via two independent circuits to a common substation for "Ballestas" and "La Casetona" wind farms.
The wind farm is promoted by Gamesa Energy, with whom ZIV collaborates in the La Escalareta II project. Iberdrola will be the wind farm operator. The project has the participation of Isastur as the EPC company, with whom ZIV has worked on numerous projects, including Llano de Llampo, the largest photovoltaic plant in Chile.
La Casetona wind farm will have 9 model G-132 wind turbines, of 3,465 kW nominal power each. It would also have a transformer substation, located in the municipality of Vallejera, with two 45 MVA 30/220 kV step-up transformers, two auxiliary service transformers, and a control building. Additionally, two 220 kV interconnection lines, of 60 m in length, originating the substation and ending in a new tower of the existing line Carrasquillo – Vallejera.
A Cybersecure Substation SAS
Baca and Raya substations, which are the names given to the substations of each wind farm, will have an integrated ZIV protection and control system. The protection cabinets of the 132 kV line incorporate line differential protection – model DLF. Also, the line switchgear will integrate the multifunction relay model IRF, which is IEC 61850 edition 2 certified.
The substation will feature cybersecure ethernet communications, that is, protected against possible attacks. The communications architecture is designed in accordance with IEC 62351 and IEEE 1686-2013 standards. The system includes RBAC, secure keys, physical and logical ports disabling, cybersecurity events log, and secure management protocols (PROCOME, HTTPS, SFTP, SSH)
Location
Both wind farms are in the municipal districts of Castrojeriz and Vallejera, in Burgos, the province in Spain with most renewable wind energy generation. 76 MW of capacity are under construction, an additional 144 MW have been approved with plans for near term construction, and 1,000 MW more of wind and solar are starting the permitting process.
Are you working in a project? Let our sales and application team support you