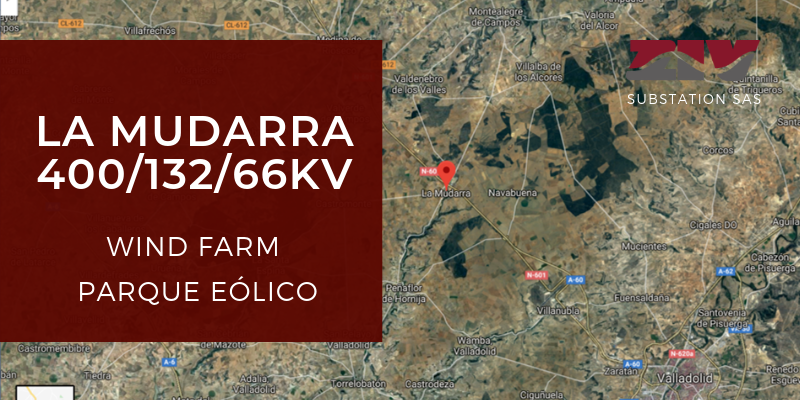 The 34 turbine Torozos wind farm in Valladolid will have ZIV substation technology.
Location: La Mudarra, Valladolid, Spain
Substations: Montes Torozos East, Montes Torozos West & La Mudarra
Promoter: Naturgy
EPC: Cobra
Substation Automation System: ZIV
ZIV has been awarded two contracts for the supply, configuration and commissioning of the Protection, Control and Communications systems of the Torozos (East and West) substations, as well as the connection to the 132kV collector substation "La Mudarra" in the municipality of Valladolid.
Modular and cybersecure protection relays
The wind farm, promoted by Naturgy, will have an integrated ZIV protection and control system, which incorporates, among others, IEC 61850 certified ZIV e-NET flex protective relays. The 132 kV line protection panels include the line differential protection model DLF, as well as the digital teleprotection model TPU. The medium voltage switchgear will include the multifunction protection model IRF with IEC 61850 edition 2.
In addition to all the equipment, ZIV will provide its engineering services for relay settings calculation; settings, control logic, scada, and communications file programming; testing and commissioning.
La Mudarra substation expansion, in Valladolid, will interconnect the same renewable power as a nuclear power plant (*)
The REE 400 KV electric substation in the Torozos Mountains will increase capacity to interconnect 550 MW of wind power and 450 MW of photovoltaic power. La Mudarra will have a renewable capacity of 1,000 MW, an amount equivalent to that generated by a nuclear power generator. Of course, this is a theoretical comparison, since a nuclear plant can generate uninterrupted, while the wind generates when it blows and the sun when it shines.
The production of thermoelectric and hydroelectric power plants in northwestern Spain (Galicia, Asturias and León) also passes through these facilities in Valladolid, and their transformers are controlled to deliver energy from one source or another to the grid. Madrid is the main destination for this power, but thanks to multiple interconnections it can supply the entire Peninsula, the Balearic Islands and even cross borders.
(*) source https://www.elnortedecastilla.es/valladolid/ampliacion-mudarra-permitira-20190321213658-nt.html
Scope of the project – ZIV SAS
Supply of Integrated Metering, Communications, Protection and Control System for the 400/132 / 66kV La Mudarra substation for Naturgy (Spain).
• Substation Central Unit Cabinet
• 400kV Line Protection, Control and Metering Cabinet
• 400 / 132kV Transformer Protection, Control and Metering Cabinet
• 400 / 132kV Transformer Voltage Regulation Cabinet
• 132kV Bus Control and Protection Cabinet
• 132 / 66kV (400kV side) Transformer Protection, Control and Metering Cabinet
• 132 / 66kV Transformer Voltage Regulation Cabinet
In addition to the supply of materials, other services are included, such as:
• Control System Electrical Engineering
• Control Configurations
• Coordination study and relay settings
• FAT testing
• SAT testing
Location
The municipality of La Mudarra is in the Torozos mountains, province of Valladolid (Castilla y León). The economic activity focuses on agriculture and livestock, although it's home to one of the most important power substations in Spain. Many high voltage power lines cross this community delivering electricity throughout northern and central Spain.
Formerly the municipality was crossed from north to south by the Royal Drovers' Road of Leon.
About Naturgy – renowables subsidiary
Naturgy currently has 295 MW of installed wind power in the provinces of León, Zamora, Burgos and Palencia. The Naturgy Renewable subsidiary closed the year 2018 with a total installed capacity in operation of 1,179 MW, of which 1,012 MW correspond to wind, 109 MW to mini-hydro and 58 MW to cogeneration and photovoltaic power.
Are you working in a project? Let our sales and application team support you