Electric Vehicle AC chargers; for domestic and public road environment; single socket and multisocket solutions.
A set of solutions developed in accordance with international regulations that integrate ZIV own technology in control, communications and measuring systems.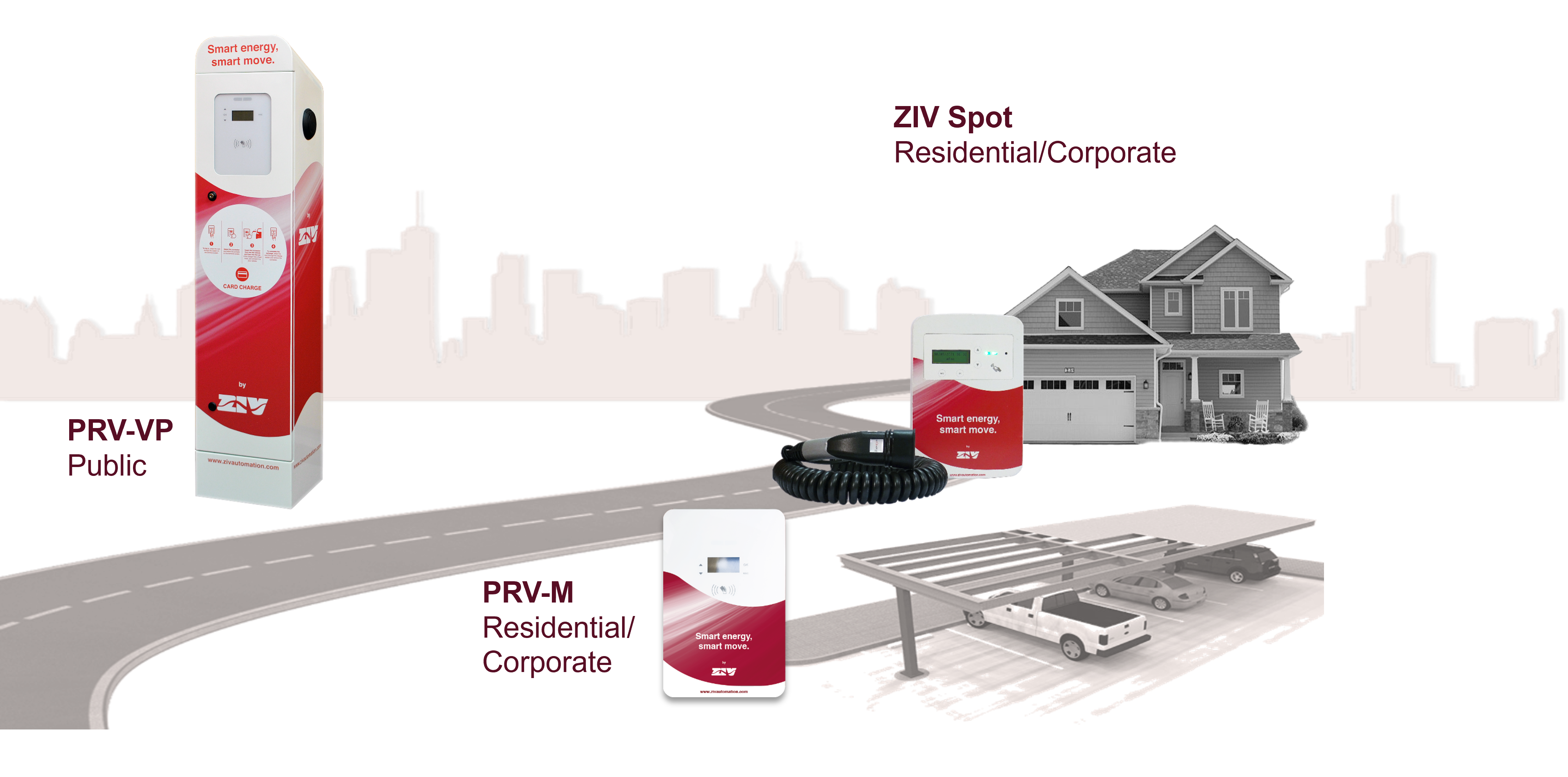 ZIV SPOT
Mono cable AC charger, wall mounted & suitable for home, collective parking at home or corporates.
• From 7,4KW to 22kW, 1ph and 3ph variants.
• IP54 and IK10 protection and cetification.
• 1 EV connection, mode 3 type 2 or type 1, socket or cable option.
• Display, LEDs, RFID, Bluetooth, WIFI, RS-485
• Bluetooth APP & OCPP 1,6 protocol
• LTE-Cat1 modem & Ethernet port
• Built-in DC-Leak detection, MID meter & reconnector
• Master/Slave configurations
• Cellular telecommunications (HSPDA/3G)
• Power management
• External appearance can be customized
PRV – M
Dual socket EV AC charger, wall mounted & suitable for public or semi-public spaces.
• 7,4KW – 22kW (single/three phase 16-32A)
• 2 EV simultaneous connections Mode 3
• Socket, Charging Cable + connector (type 2 or type 1) or Schuko
• OCPP 1.6
• Master/Slave configurations
• Cellular telecommunications (HSPDA/3G)
• Power management
• RFID Support for customer authentication
• All charging operations are stored (internal event log)
• Options for in-built protections: CB and RCD
• External appearance can be customized
PRV – VP
Dual socket EV AC charger, stand alone & suitable for public or semi-public spaces
• Single/Three phase 16-32A / 16-32-64A
• Max 43kW (Three phase 64A)
• 2 simultaneous EV connections Mode 3
• Socket, Hose
• OCPP 1.6 protocol
• Master/Slave architecture
• Cellular telecommunications (HSPDA/3G)
• Power management
• RFID Customer authentication
• Tilt sensor
• All recharging operations are stored (internal event log)
• Option for in-built protections: CB and RCD
• External appearance can be customized