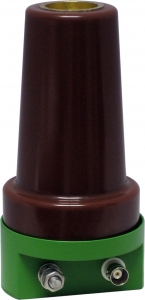 Capacitive PLC coupler (wideband transmission)
For injecting and transmitting the PLC signal over the MV phase-to-ground distribution feeders.
Key features
For installation into a symmetrical tee connector in gas insulated switchgear (GIS).
Dimensions comply with UNE EN-50181 standard.
Frequency range: 2 ÷ 30 MHz.
Coupling type: Phase-to-ground by capacitor of 500 pF.
System voltage (between phases):
24 kVrms (ACA-500).
36 kVrms (ACA-36).
Protection elements:
MV side: draining to earth of 50 Hz current and gas surge arrester.
LV side: gas surge arrester.
Nominal impedances: 50 Ω.
Earth connection: M6 rod.
Connection to the communication equipment by means of BNC connector.
Related
Literature