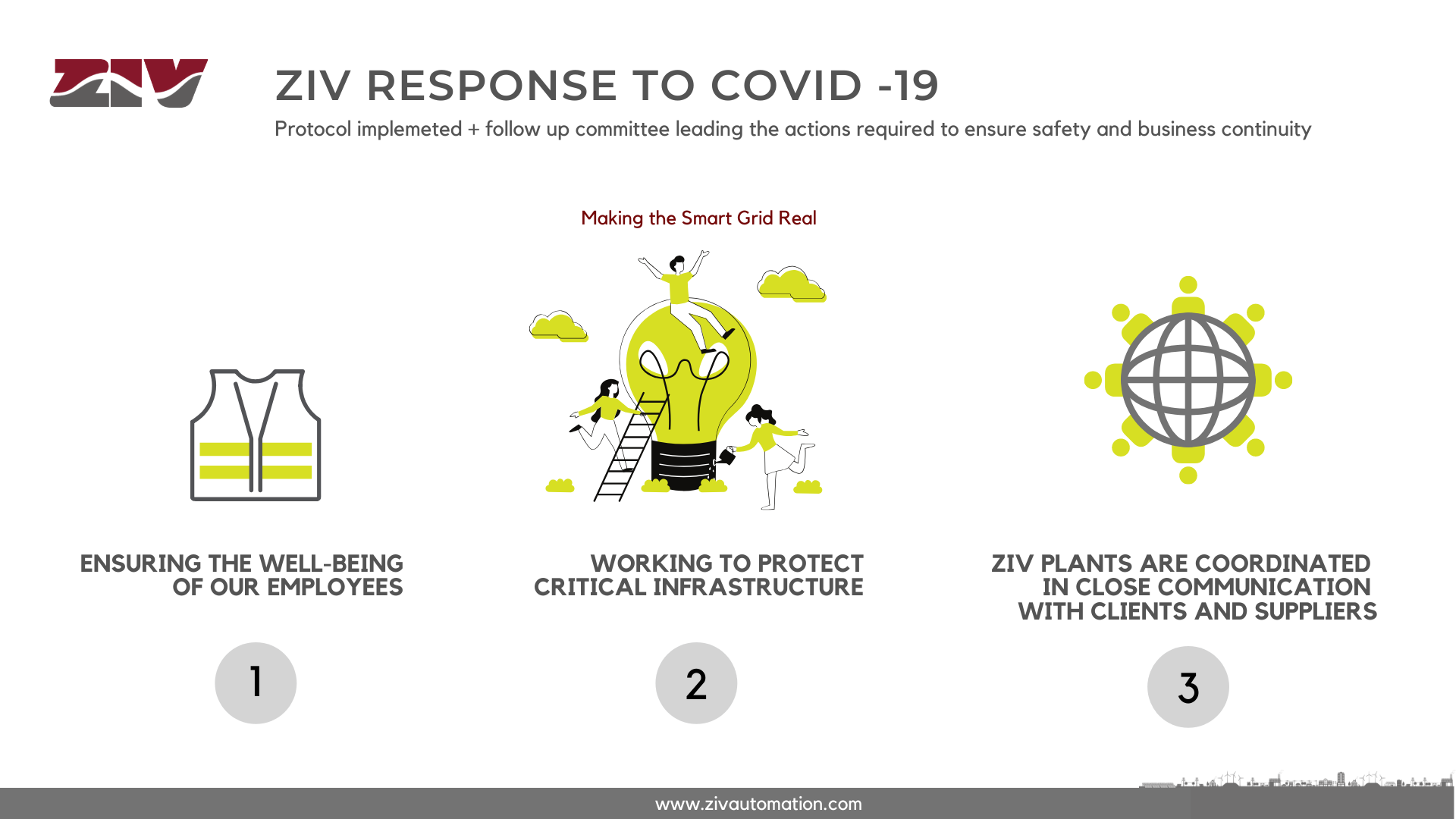 ZIV has taken exceptional measures to prevent Coronavirus and is working to ensure the well-being of our employees while continuing to serve the critical needs of our customers.
As we continue to monitor Coronavirus (COVID-19) developments closely, the health and well-being of our associates, clients, and their employees is of utmost importance to us. We are keenly focused on our preparedness efforts to maintain a safe work environment for our associates and to sustain our business operations.
1.- Ensuring the well-being of our employees and business continuity
ZIV is following all recommendations from Government and Health Authorities and implementing different measures to guarantee the safety, health and well-being of all our employees. As a preventive measure against the expansion of the virus all ZIV sites are applying the following protocol:
Teleworking: is mandatory in those positions that allow to perform the required duties without affecting the resulting outcome.
Travel restrictions: National and international travel has been restricted, as well as internal and external meetings
Check-up protocol and in-factory measures: Check-ups have been implemented and safety equipment provided in order to grant the safety of our employees and suppliers. In this regard, operational changes have been implemented in order to reduce the chance of infection in the factories.
Follow up committee: A committee is in place to follow the commitment of the protocol, to ensure the safety of our staff and to continue supporting our customers.
2.- Working to protect critical infrastructure
As a manufacturer of devices that protect critical infrastructure, ZIV has the responsibility to meet the needs of our customers. ZIV is aware of how critical our work is to society, particularly in times of crisis. Without a stable energy supply, cities, towns and communities can't function. For more than 25 years, we've helped our utility and industrial customers keep the power flowing and we work hard in this time of crisis to continue complying with our customer's commitments.
3.- ZIV plants are operative and properly coordinated in close communication with clients and suppliers
We will continue working to fulfill the commitments we have with our clients. However, the rapid evolution of the virus can result in supply problems beyond our control that can eventually affect those commitments. We will be facilitating regular updates on the situation.
We are confident that by working together, we will manage through this challenging time and thereby guarantee our mutual success for many years to come.