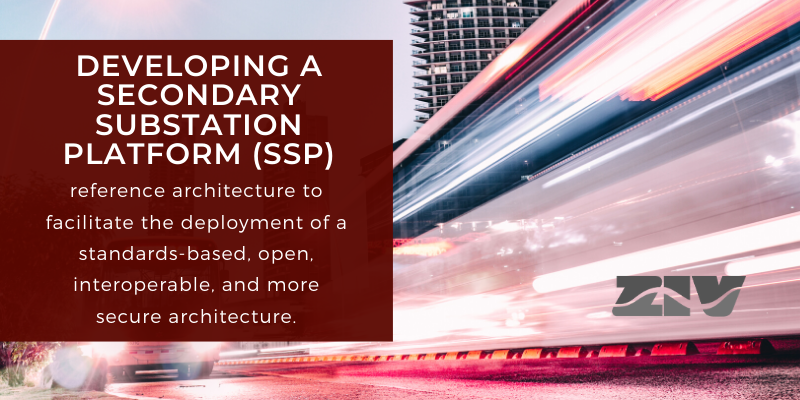 ZIV shaping the future of the secondary substations
Announcement: International consortium to generate a standard for SS
Players: Iberdrola, Intel, Ariadna Grid, Circutor, Landis+Gyr, Merytronic, Nebbiolo Technologies and ZIV Automation,.
Keywords: secondary substation, big data, open standard, Distribution Grid Digitalization
ZIV to participate in a consortium to create a new intelligent, open standard for secondary substations
Iberdrola, one of the world's largest electricity utilities by market capitalization, joined forces with Intel and six industry major players, Ariadna Grid, Circutor, Landis+Gyr, Merytronic, Nebbiolo Technologies and ZIV Automation, to create a new intelligent, open standard for secondary substations that promises to be a game-changer for the rapidly evolving global energy sector.
The need
Today's energy production and consumption ecosystem is being transformed by a combination of micro-producers — think rooftop solar — local energy storage devices, and electric vehicles. Electricity demand is increasing and gone are the days in which charged particles just flowed downstream to consumers. Today's power grid is bi-directional, and more susceptible than ever before to fluctuations in consumption.
Utilities are grappling with the challenge of load balancing in an environment that includes bi-directional power flows at the edge of the grid. Looking over the horizon, adding one or two electric cars per household is going to increase consumption. Monitoring real-time demand and better managing the distribution of power will become even more important as utilities work to improve efficiency at the secondary substations that deliver electricity to business and individual energy consumers.
A new paradigm for substations
The consortium is embracing the need for better efficiency by developing a Secondary Substation Platform (SSP) reference architecture that uses Intel CPUs to facilitate the deployment of a standards-based, open, interoperable, and more secure architecture.
While low-cost delivery of electricity is the goal, utilities face a combination of operating challenges at secondary substations – from maintaining electromechanical equipment to managing legacy computer systems. But now, intelligent edge consolidation is facilitating the implementation of Smart Grid technology that uses virtualization for monitoring, control, and edge analytics.
In the newly formed group, the co-promoters are bringing in a lot of domain knowledge and experience in 'Grid Operations' management to ensure that the SSP provides the right level of distributed intelligence. This, combined with Intel's technology expertise, will create a flexible, manageable smart grid, providing real-time understanding of the grid, and offer more tailored, easy-to-use services for the end customers.
The partners joining this working consortium, are playing a major role in unifying the actual diverse ecosystem, that is both hard to manage and maintain, into a standard platform, by creating the main building blocks needed for the platform and integrating them into the actual grid. This standardization approach of the grid is not a singular market trend. In fact, Intel technology has helped telecommunications providers with a similar paradigm shift – from connectivity based on a variety of proprietary hardware appliances to an integrated open platform based on virtualized network functions.
Of course, the standardization path on the energy industry is not an easy one, the partners mentioned above are taking the leadership role in changing the market, helping create a better environment where the technologies based on standards will drive innovation. An iconic example is the PRIME Alliance which enabled successful Smart Metering rollouts in many utilities, such as Iberdrola.
A unified architecture for SSPs means that one secure and easy-to-manage system can replace the complexity of often incompatible solutions from different vendors. An integrated and standardized computing environment will enable utilities to develop a data-driven SSP solution in which analytics, monitoring, and control can be managed in a virtualized environment. New systems can be standardized using off-the-shelf, industry-grade servers, and legacy systems can eventually be replaced by a more integrated network.
The initiative has the potential for an even greater operational impact. It will integrate multiple command and control devices on a single platform that supports the use of edge computing devices with configurable Intel processors and FPGAs for workload management. Intel CPU's provide the flexibility needed to support a wide range of compute and bandwidth-intensive applications.
The SSP reference architecture is designed to facilitate deployment of an integrated substation platform that addresses both the technical and business challenges faced by utilities worldwide. The benefits of smart SSPs include lower capital and operating costs, faster time to market for new technology and, ultimately, more efficient management and delivery of electricity.
What's more, using virtualization technology at the edge means that utilities can customize and expand their SSP applications as their needs change. This open, flexible architecture runs on servers that can be easily upgraded as required, and that can use software solutions from multiple vendors. The seamless integration of hardware and software will provide utilities with better scalability, security, reliability, and flexibility.
Making the smart grid smarter
The new implementation will also aggregate all the data related to applications running on an SSP's network into one central database. This will enable a shift from a historically model-driven grid to a data-driven grid. Real-time access to data and operational analytics will facilitate decision-making based on variables such as load demand and time of day.
Here's where the Smart Grid shines even brighter. Machine learning can be used to harness the flow of data in order to monitor and adjust SSP power delivery for more efficient and more automated operations. Moreover, advanced analytics will give utilities much clearer insight into fluctuations in supply and demand. That will enable more cost-effective management of resources – which is a potential boon for the bottom line.
The reference architecture thus envisioned is also designed to increase visibility at the edge, and to help mitigate the challenges created by both the proliferation of distributed energy resources and the increase in overall demand for electricity.
Ultimately, the initiative promises to demonstrate the benefits of an end-to-end, integrated edge computing platform for secondary substations – and that will help propel the digital transformation of the utility sector.
This collaborative effort also supports a shared goal of using technology to develop smart, sustainable energy solutions. This data-driven environment will help utilities to dynamically manage assets, decrease maintenance and transmission costs, improve worker safety, and increase sustainability initiatives.
Upgrading the infrastructure at secondary substations is critical and that's why the group is using Intel's flexible, security-enabled, and scalable hardware and software solutions to power this smart energy initiative. Intel is excited to work with Iberdrola, Ariadna Grid, Circutor, Merytronic, Landis+Gyr, Nebbiolo technologies and ZIV Automation on an effort that promises to benefit utilities throughout Europe.
Why is ZIV is promoting this initiative?
First of all: We, ZIV, truly believe in the constant innovation to contribute to enhance safety, quality of service and profitability of the electricity systems.

Secondly: Because cooperation with first in class companies has proven to be best way to achieve great goals. We have well known experiences from the past and we are sure it will be the case of the Secondary Substation Platform initiative.

We are witnessing a revolution in the way the electricity networks are going to be managed and operated in the coming years and decades.

Therefore, this initiative is about this: Shape the future of the electricity networks.

Innovation, cooperation and great teamwork are the key success factors.

We invite you to come along in this journey.
Do you want to know more about ZIV´s expertise in Secondary Substation monitoring and Automation? Let our experts support you