Low voltage grid remote control operation, over smart meteting PRIME infrastructure
ZIV has explained the objectives an results obtained in the Spanish demonstrator, mainly focused on monitoring and control of LV network. The demo has been carried out in Bilbao area (North of Spain) in a distribution grid operated by Iberdrola Distribución (+ read more)
The expectations regarding PRIME based functionalities have been achieved successfully.
The key result is the improvement of PLC PRIME-based communications. Being the outputs a set of tools and developments.
An IP over PRIME multiservice subnetwork is built enabling applications such as remote control operation of LV grid.
This is possible improving PRIME monitoring capabilities through a manageable subnetwork.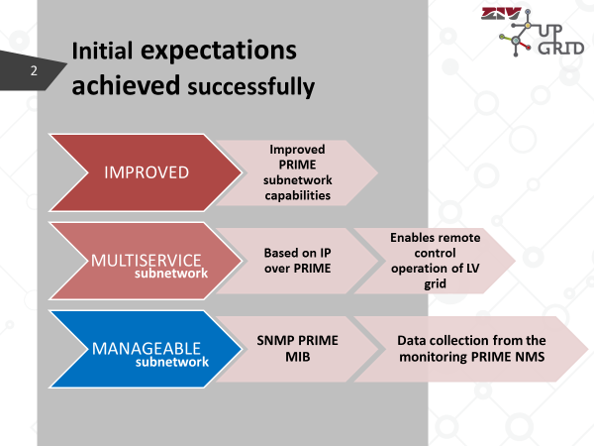 About ZIV´s demo
ZIV covered the line of work related to PLC PRIME-based functionalities.
The goal was to develop Low Voltage grid remote control operation, over smart metering PRIME infrastructure, and make it manageable, taking full advantage of AMI deployments improving visibility, controllability and operation.
The work was divided into two lines: First a multiservice PRIME network is enabled, deploying applications such as remote-control over PRIME. Second, a Manageable PRIME network was built increasing its monitoring capabilities.
PRIME = MULTISERVICE network
Existing PRIME infrastructure can be used, not only to retrieve metering data from Smart Meters, but also to transport IP traffic that will serve multiple purposes.
Three applications to make use of this multiservice capability were identified. One of these is the development of remote control operation over PLC-PRIME. The aim is to replace the Ethernet channel  with an IP based multi-service PLC-PRIME channel. This channel is enabled with a new generation of compact devices developed within the Project, ZIV PRIME gateways.
This network architecture replicates the field topology with two different and separated Local Area Networks. The first is AMI oriented and the second is the new multiservice network introduced. The approach is to connect them both using a third, IP over PRIME Local Area Network.
PRIME = MANAGEABLE subnetwork
For the deployment, forty 40 field AMI data concentrators were selected in the demonstrator area. SNMP standard protocol was used to retrieve statistics about PRIME networks.
ZIV developed a Network Management System (NMS) web-based tool, for collecting SNMP PRIME MIB information. This tool explores PRIME devices' data and stores it.
About the project
The UPGRID project started in the beginning of 2015 under the H2020 program and has been developed by a European consortium, composed of 19 partners from 7 European countries: Spain, Portugal, Poland, Sweden, United Kingdom, France and Norway.
The project included 4 demonstrators deployed from April 2015 to June 2017 at Bilbao area in the North of Spain, Parque das Nações in Lisbon (Portugal), Åmål in Dalsland in the South of Sweden, and Gdynia in Pomeranian Region (Poland).
Visit the website for further information: PROJECT | OBJECTIVES | RESULTS | PARTNERS