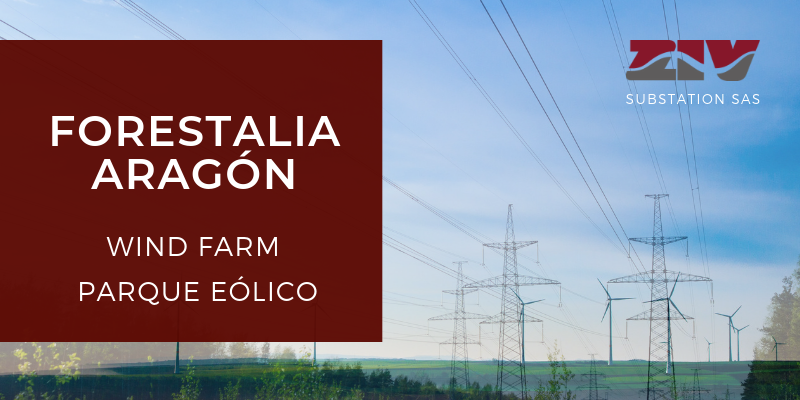 ZIV, in collaboration with EPC company GES, will provide the protection and control systems for the Virgen de Ródanas and El Portillo wind farm interconnections
Location: Valdejalón, Aragón, Spain
Substations: Tolosana & Virgen de Ródanas
Promoter: Forestalia
EPC: GES
Substation Automation System: ZIV
132/30 KV, 90/110 MVA "Virgen de Rodanas" electric substation – Purpose: Grid interconnection for the Virgen de Rodanas I and Virgen de Rodanas II wind farms.
132 / 30kv "Tolosana" electric substation  – Purpose: Grid interconnection for the «El Portillo» wind farm
Location
The "Valdejalón's Cluster", is named after a region of Aragon (Spain), located in the west-central area of the province of Zaragoza. The cluster denomination stems from the 6 wind farms concentrated in the area. The region will be a reference in Spain as a source of clean energy: El Sotillo (Lumpiaque, 15.00 MW, Energías Eólico y Ecológicas 53, SL) , Bohalar I (La Muela and Zaragoza, 9.00 MW, Bohalar I Wind Farm), Alto de La Muela (La Muela and María de Huerva, 4.85 MW, Auxiliary and Telecommunication Service), La Gabarda R & D ( Épila, 5.00 MW, Épila Renovables), El Llano (Rueda de Jalón, 10.00 MW, Molinos del Ebro) and Tablares (Lumpiaque, 12.00 MW, Sociedad Eólica Ribera Baja).
Aragón, with permits for 79 wind farms and 56 photovoltaic plants, leads the renewable energy sector in Spain.79 wind farms with a total capacity of 2,355.49 Megawatts (MW). Six (6) farms with a capacity of 122.45 MW already built and with operating authorization.143 wind farms in permitting process with a power of 4,160.70 MW, including the 79 already authorized.58 projects, originated in the auctions convened by the previous Ministry of Energy, Tourism and Digital Agenda, current Ministry of Ecological Transition.
The Aragon Autonomous Community was, with notable difference, the region that attracted the most projects by power capacity.
https://goo.gl/maps/xwscfR4wxTX5YrsH8
About Forestalia
Forestalia is a business group dedicated to renewable energies (wind, photovoltaic and biomass). Born in Zaragoza in 2011, fruit of the long business experience of Fernando Samper Rivas, president and founder of the group. From its Aragon's roots, Forestalia has grown with a clear national and international vocation. The current portfolio of Forestalia include 3.6 GW of renewable energy. Of these, almost 2 GW correspond to the auctions of the Ministry of Industry in 2016 and 2017, in which Forestalia was the largest promoter.
About GES
Present in more than 20 countries, GES is the global market leader in construction and services for the wind and solar industries. GES has an unparalleled track record in terms of MW of installed and maintained wind power, together with unparalleled global capabilities and reach. http://www.services-ges.com/es/
Are you working in a project? Let our sales and application team support you