Last week took place the 3rd Steering Committee of FLEXIGRID project and the Spain demo-site workshop. The event took place in Viesgo EDP facilities in Aguilar de Campoo (Palencia, Spain) and in the Spain demo-site workshop to visit  one of the installations where the solution "Secondary Substation of the Future" is implemented.
In recent years, the energy paradigm is shifting from big-size centralized power plants to small-medium size distributed variable generation electricity sources injecting energy in a bi-directional power flow grid. In this context, the increasing share of variable and unpredictable renewable energy sources (RES) is challenging the electric grid in terms of reliability, stability and security of supply. Indeed, the European renewable target for 2030 (32% of total energy consumed) means that more than 50% of electricity will be generated from RES, most of which will be connected to the MV and LV grids. Furthermore, the EU's policies have encouraged the development of decentralised electricity generation, electric vehicles, energy storage and flexible demand.
As an answer to these present and incoming challenges, FLEXIGRID project proposes to improve the distribution grid operation making it more flexible, reliable and cost-efficient, through the development of four hardware solutions 
4 demo-sites were chosen to represent in a complementary way the different use cases.
ZIV joined the demo #1 with VIESGO EDP >> "The secondary substation of the future" and focused in the development of:
A new platform of modular meters, where flexibility has been considered as the main requirement,

especially with regards to communications technology. The smart meter shall provide data not only to the DSO but also to end consumers or prosumers. In each market, communications technology does not have to be the same, therefore the more interfaces and more modularity we have, the more prepared we will be to adapt to new markets and technological changes.
An

improved mechanism to obtain the LV feeder identification of all the connected smart electricity meters

has been developed and tested in simulation.  Simulation tests have shown that the method appears to have promising results.
New  algorythms for MV feeder protections  operating with large RES share penetration in the distribution grid.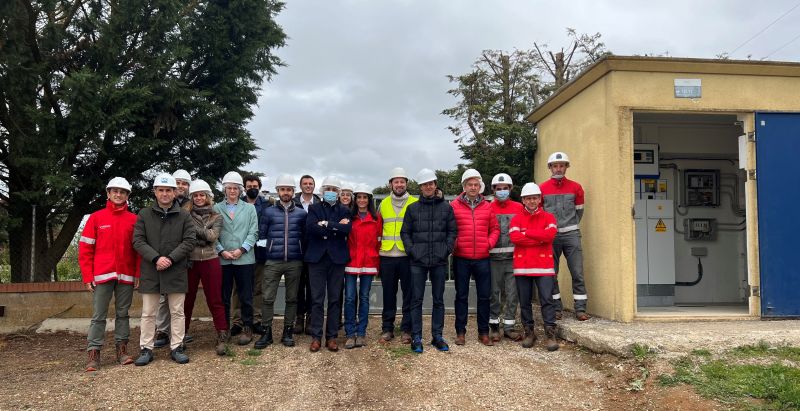 👉  DEMO #1 LOCATIONS & GENERAL DESCRIPTION
VIESGO generation and distribution is a Spanish DSO placed in Santander, Spain. Currently VIESGO generates 1.400 MW of energy in the Iberian Peninsula, being 487.4 MW coming from renewable sources. Additionally, VIESGO counts with 31,300 km of electrical grid in the north of Spain. VIESGO provides services to more than 695,000 consumers, and counts with smart meters at house level for fraud control and consumption monitoring. The contribution of renewables is RES: 39% MV (5.2% Hydro, 94.8% wind) MV; fossil: 61% coal-fire thermal plants.
👉 👉 MAIN CHALLENGES
There is evidence of higher levels of losses in VIESGO's highest voltage networks (132 kV) where there is a greater presence of distributed generation
Uncontrollable assets and substations
👉👉👉INNOVATIONS
Automation and control of the distribution grid through the deployment of new generation of smart hardware and the implementation of high level algorithms
Protections functions operating with large RES share penetration in the distribution grid
👉👉👉👉 PARTNERS
Viesgo, Ormazabal, ZIV Aplicaciones y Tecnología, Atos, Universidad de Cantabria, Elin Verd S.A., LINKS Foundation – Leading Innovation & Knowledge for Society and CIRCE – Centro Tecnológico
About ZIV
ZIV Aplicaciones y Tecnologia is a company based in the North of Spain offering a complete portfolio of digital protection &control, metering, communication, monitoring and automation equipment and systems for generation, transmission and distribution electric utilities, industries and EPC contractors worldwide.  With a commitment to innovation, to an open and flexible approach, and to teamwork, ZIV has grown to become a leader in SMART SOLUTIONS for HV, MV and LV Grids – serving customers in more than 85 countries.