ZIV has been awarded a strategic contract for the supply of ESMR5.0 smart electricity meters to the Dutch Distribution Company Enexis Netbeheer. ZIV will start delivering LTE meters in 2018, for a rollout that will be completed at the end of 2020.
The Enexis ESMR5.0 project develops and implements a next generation Smart Meters, both Single and Poly phase, using LTE 4G communication and capable to communicate with gas-meters.
ZIV has developed a meter with embedded communications technology. It has an interface to communicate with the customer (wireline); Wireless M-Bus communication to gather data from other meters (in case of Enexis it will connect to ESMR5.0 gas meters) and LTE 4G communications to share information with the central system using the DLMS protocol.
This 54 million euro contract is strategic for the Spanish company that has strengthened its offering of metering solutions with this new development. ZIV portfolio comprises smart meters based on communications via PLC (in accordance to both PRIME and G3-PLC standards);  via radio; the already mentioned LTE 4G solution, and a broad range of data concentrator units, gateways and communication solutions. The company is well known for its innovation capacity and capability to generate not only smart metering solutions, but also distribution automation and substation automation systems.
According to Marco Wiltjer, Director Customer and Market of Enexis Netbeheer: "With the ESMR5.0 project and by selecting LTE as our communication technology of choice, Enexis Netbeheer further enhances the long term availability and quality of its smart grid. Developing the ESMR5.0 LTE smart meter is an integral part of our large scale roll out roadmap and helps us to achieve our goal of deploying smart meters to at least 90% of our customer's homes with a view on increasing awareness about energy consumption and enhancing grid management capabilities."
Commenting on this award, ZIV President, Norberto Santiago said "We thank Enexis for the confidence and trust put on ZIV. We will contribute to the success of the Dutch smart grid deployment with our effort and a collaborative spirit to meet its demanding requirements of quality and performance. This new award reinforces ZIV position as a high tech player in the smart grid domain.
LTE 4G smart meter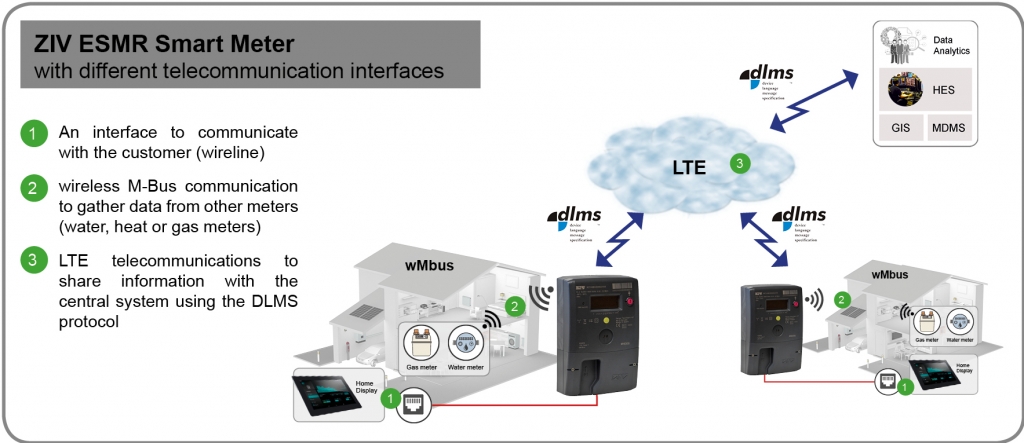 About Enexis Netbeheer
Enexis Netbeheer is the regional network operator in the north, east and south of the Netherlands. The company is tasked with the development and construction of energy distribution networks (gas and electricity) and the maintenance and management of these networks. Acting as the link between the customer and the energy supplier, Enexis is responsible for the supply of energy to more than 2.7 million customers. Enexis has 4,300 employees.