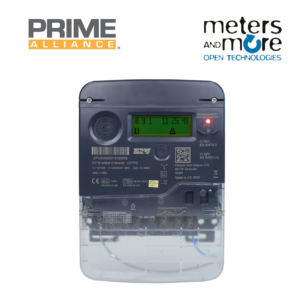 A modular PLC smart meter that implements ZIV's own technology for PRIME and Meters & More open standards.
It ensures a reliable data transmission, even in the most challenging powerline media conditions: eg. noisy, low impedance lines and the like.
Additionally, it can include one or two RS-485 ports to connect a modem or a dongle linked to an Inhome Display.
The embedded PLC node is automatically identified in the PLC Network (plug and play)
Direct & CT connected Smart Meters using DLMS/COSEM
Application data or meters and more protocol stack.
Key features
Secured access and encrypted data transmission.
Dot matrix display for meter readings and standardized messages/symbols.
Instantaneous measurement of voltages, currents, active and reactive powers, angles and power factors (per phase), neutral current, network frequency and sequence information.
Energy registers (active and reactive), total and per tariff rate.
Several load profiles with different channels and configurable intergration period.
Measurand profiles (maximum, minimum and average voltage and currents…), with programable integration period.
RMS values register (voltage, currents and active/reactive power) with configurable integration period.
Monthly and daily billing data.
Versatile Time of Use (TOU) module which provides a way to configure different seasons, weekly profiles daily profiles and special days.
Maximum demand recording for each of the programmed tariff.
Clock and time synchronization (EN 62054-21) with DST configurable.
Event and alarm recording with a broad set of manageable events.
Power Quality recording. Voltage variations outside the established thresholds and long-term voltage interruptions.
Breaking and reconnection elements for remote switching operations, power control and demand side management.
Auxiliary relay (optional) for current tariff information or external modules management.
Protection against temporary overvoltage (e.g earth faults) by means of opening the disconnector in a very short time frame.
Battery for RTC and fraud events maintenance.
Self-diagnostics and monitoring.
Enhanced anti-tampering protection system, including bypass and magnetic field detection.
Literature