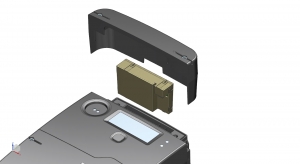 5CTB is a flexible smart meter that incorporates a special sealed holster designed to host a pluggable communication module (e.g. LTE Cat 1).
It ensures a reliable data transmission, even in the most challenging powerline media conditions: eg. noisy, low impedance lines and the like.
The PLC service node integrated is automatically identified in the PLC network (plug and play).
Direct & VT-CT connected Smart Meters using DLMS/COSEM Application Data. Data transferred is encrypted using DLMS Security Suite 0.
Additionally, it includes a RS-485 port to remotely access the meter through a modem, using RF technology, and another RS-485 port for connecting an In-home Display.
Key features
Bidirectional communication over PLC Open Standards with ZIV technology: PRIME 1.4 / G3-PLC.
Robust automated meter reading (AMR) solutions for distribution companies.
Energy measurement, load profile and Time of Use (TOU) features
Data reading, configuration setting changes, date synchronization and operation of the built in breaker
Configurable with ZIV's meter management software
Related
Documentación