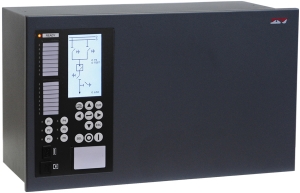 Protection for two or three winding transformer or autotransformer, of any voltage level, with single or double circuit breaker
Suitable for phase-shifting transformers, Scott or Leblanc transformers.
Can be applied as a differential protection for reactances, SVCs, generators and motors.
A fast differential unit, complemented by advanced blocking and harmonic restraint logics and an external fault detector, provides great reliability in all types of conditions.
Key Features
Differential Units: 

Includes one unit with percentage restraint and harmonic restraint/blocking, and another unrestrained. The latter allows to accelerate tripping of internal faults with high fault currents that cause CT saturation. Both differential units have up to six three-phase current inputs, allowing protection of three windings transformers in breaker‑and‑a‑half or ring‑bus schemes in all their windings.

Harmonic Restraint / Blocking: 

The harmonic restraint and blocking units avoid trips under transformer inrush and overexcitation conditions. The wide variety of cross-blocking logics provide great security during transformer energization with low second harmonic percentage, common in new power transformer designs. Additionally, the dynamic harmonic blocking / restraint logic allows accelerating internal fault trips with CT saturation. Thanks to this last logic and the use of fast outputs, the differential unit trips in subcycle times.

External Fault Detector:

Blocks the differential unit against external faults with very high CT saturation, providing exceptional security.

Restricted Earth Faults:

The restricted earth faults unit detects ground faults in one of the windings of the machine, located very close to the neutral point. In addition to the neutral differential unit, the restricted earth faults unit includes a directional comparison unit that increases its security against external faults with CT saturation.

Backup Units:

The IDF has up to nine overcurrent units of each type (phase, neutral, negative sequence, ground). Each of them can be configured as a directional unit. They also include up to four distance zones, which provide a more selective backup than the overcurrent units, especially in transmission grids.

General characteristics of the "ZIV e-NET flex family":

Powerful programable logic
2000 event log. Up to 100 oscillography seconds
Alphanumeric or graphic display
Easy HW expansion without FW updates
Unused protection elements can be hidden
Custom mapping of physical current and voltage inputs to protection elements
Can be used to protect multiple bays
Up to 20 analog channels, 160 DI, 80 DO, and 22 LEDs
Bonding, RSTP, PRP and HSR redundancy
IEC 61850 ed. 1 & ed. 2 protocols, DNP3.0, Modbus RTU and PROCOME
Native process bus. Analog input cards operate as Merging Units for the CPU. Synchronized samples at 4800 Hz (as per IEC 61869-9)
Cybersecurity in accordance with IEC 62351 and IEEE 1686-2013 standards. RBAC, secure keys, physical and logical port disabling, cybersecurity event log, and securing of management protocols (PROCOME, HTTPS, SFTP, SSH)
Time synchronization by IRIG-B, SNTP and PTP (Ordinary Clock / Transparent Clock)
Related
Literature